A comprehensive list of available
Discounts & Exemptions
Long-term Empty Homes Review

Empty Homes Review

NFI Caseload

Vacated Property pre-screening

Disregards

Email & Phone data capture

Electoral role
Class A - Structural Repairs

Class C - Unfurnished dwellings

Class D - Sole occupant detained

Class E - Permanently in hospital/care

Class I - Living elsewhere to receive care

Class J - Living elsewhere to provide care
Class N - Occupied by qualifying students

Class Q - A trustee in bankruptcy

Class U - Occupants are SMI

Student Disregard

Probate

Disable Band Reduction
Datatank can provide a full household composition review when your authority opts for a continuous monitoring period of typically 12, 24 or 36 months. We are able to consider numerous different discounts & exemptions from our service list and incorporate them into a comprehensive review programme.
Continuous monitoring holds many advantages over a bulk review such as:
Removal of processing bottlenecks, flattened workload management
Added value for money
Additional revenue generation
A Typical
Continuous Montoring Schedule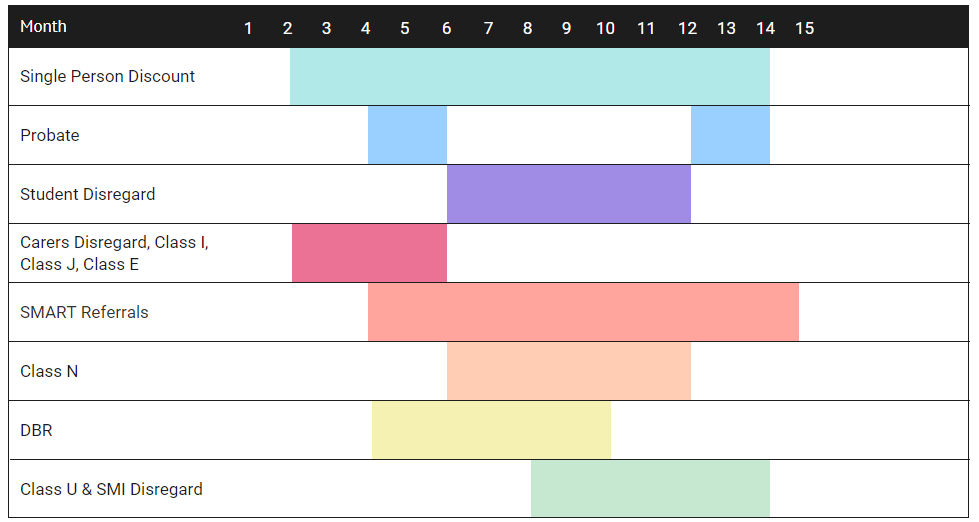 Once your project has been agreed, our team will create you a data schedule outlining the optimum dates/time to commence different discount reviews to maximise effectiveness. From there on, we will undertake the reviews as soon as your data is securely received.